Shoelaces Aglet Installation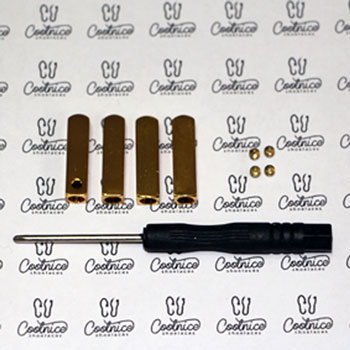 Aglet Package Content
Your new aglet consist of the following inside the pack
4 x Shoelaces aglets (2 Pair)
4 x Aglet screws
1 x Mini Philip head screwdriver
If you don't have your Coolnice Shoelaces Aglet yet
You will also need:
---
Shoelaces Aglet Installation Guide
Check that screw and aglet work together correctly.

Lace up your shoelaces to your pair of shoes.
Apply the tips of the shoelaces into the hole at the bottom of the aglet.

Apply the screws, using the Philips head screwdriver through the hole in the side of the aglet to fix it in place. (If the shoelace tip are too long we recommend cutting 1/4 off the tip for a perfect fit).

Congratulations you have finished installing your elastic no tie shoelaces.

Coolnice Tips for aglet installation: For a stronger hold please a small amount of super glue to the end of the shoelace tip before inserting it into the aglet.