Silicone Shoelaces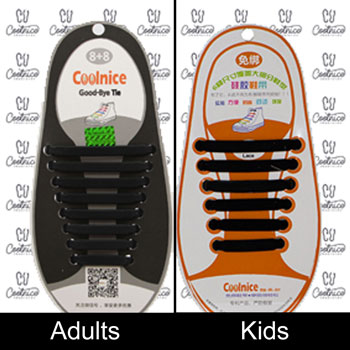 Silicone Shoelaces Package Content
Your new silicone no tie shoelaces consist of the following inside the pack
Adults: 16 pieces total ranging in different lengths, or
Kids: 12 pieces total ranging in different lengths
If you don't have your Coolnice Silicone no tie shoelaces yet
Click here to order your silicone no tie shoelaces.
You will also need:
---
Elastic shoelaces Installation
Measure up your existing bottom lace with the same length silicone no tie shoelace; this will be your starting point, for your no tie shoelaces.
Unlace your current shoelaces.
Using your starting point silicone shoelaces, thread the anchor through your bottom right eyelet hole, repeat on the opposite eyelet hole.
Repeating Step 3, Work your way up the palette to your desired lace height.
Straighten them out, so they look even and parallel.
Congratulations you have finished installing your silicone no tie shoelaces.